| | |
| --- | --- |
| Product: | (4.5 / 5) |
| Service: | (5.0 / 5) |
| Accuracy: | (4.5 / 5) |
| Atmosphere: | (4.5 / 5) |
| Gluten Free Options: | (4.5 / 5) |
| Average: | (4.6 / 5) |
Disney Cruiseline has rotational dining as one of the many perks associated with cruising with them.
For the Fantasy the three dining rooms are Royal Court, Animater's Palette, and Enchanted Garden. On a 7 day cruise, you have the opportunity to experience each dining room twice and one of them (your first dining room) for a third time (the last dinner).
On the Key to the World card (your ID card onboard the ship), it shows your rotational schedule. Our rotation was RAERAER (the first letter of the dining room is the cypher for this code). I.e. We ate at Royal Court the first night then Animater's Palette the next night, and so on.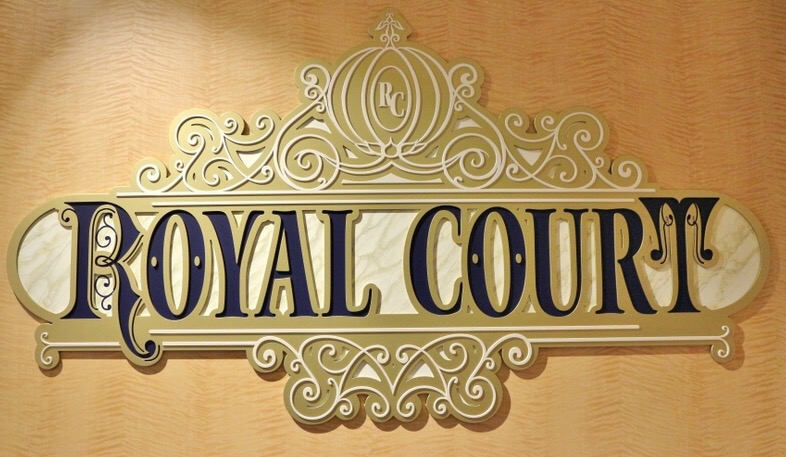 Royal Court is a Rotational Dining restaurant located on Deck 3, Midship aboard the Disney Fantasy that serves breakfast, lunch and dinner. Inspired by the classic Disney films Cinderella, Snow White and the Seven Dwarfs, Beauty and the Beast and Sleeping Beauty, the décor and atmosphere of Royal Court is especially beautiful.
Our first dinner on board was bad. First off, we had late dining (8:00 pm), which is ok for Laura and I, but for the kids, it was their normal bed time. The wait staff seem off, ordering was difficult (they weren't ready for our food allergies), the food took a while to come out. By this time the kids were both asleep and we eat whatever they were able to get from the kitchen for us.
This was probably the worst sit down meal we ever had on a Disney cruise :(. It wasn't horrible, just not spectacular. We know that turn over day is hectic for the crew and we figured we had had such wonderful service in the past, that maybe this time we were due for just good. All of a sudden Faisal, the head server, stopped by the table. He saw the kids asleep and asked about our meal. We were honest, but pleasant about our experience. He insisted that we change dining to the Main Dining and switched our table number to 17. We thanked him, finished our meals and left for the evening.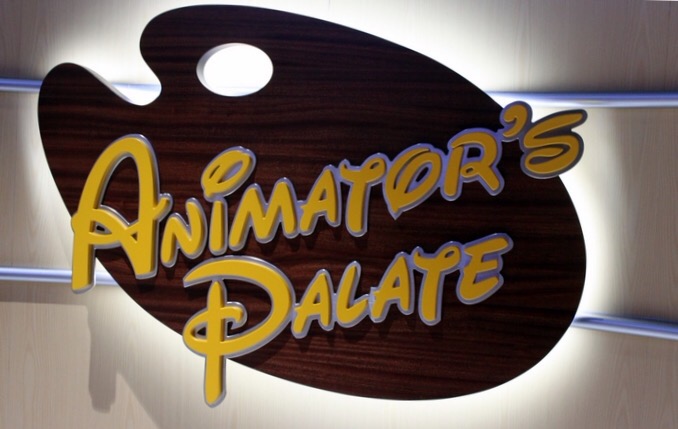 Animator's Palate is a Main Dining restaurant located on Deck 3, Aft aboard the Disney Fantasy that serves dinner. Paying homage to the magic of Disney animation, Animator's Palate includes a unique dinner show starring some of your favorite Disney characters.
The next night completely turned our dining experience around. We were introduced to our new server Andriana and assistant server Elvin at Animater's Palette. I could tell right away we were going to get great service for the rest of the trip, I just didn't realize how incredibly awesome it was going to get. Right away, they brought out gluten free bread which was devoured quickly. She had our allergies already and was working with Laura to get the best meals out for us quickly.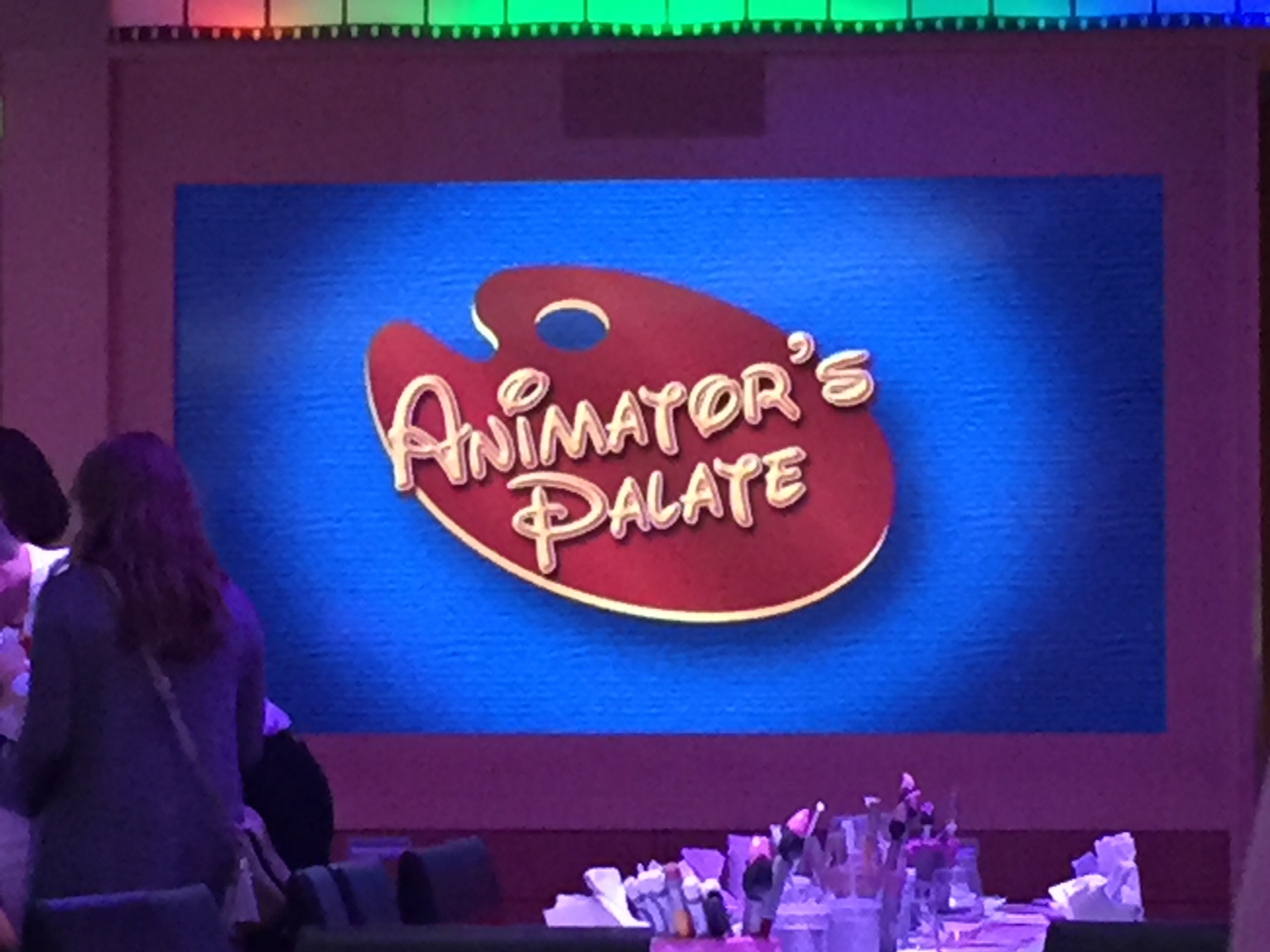 The meal was great the service was fantastic and the kids were happy…oh, and we enjoyed a little Turtle Talk with Crush.
So third night, where's dinner? Wrong! We skipped Enchanted Garden, because of our Remey Dinner (Covered later). Since Remey is an adult only dining experience the kids were at the Kids Clubs, however Andriana made their night by having dinner delivered from the kitchen to the club. This was particularly important since the food that is usually available to the kids is not safe for them. Thanks to Andriana, Laura and I were able to enjoy our romantic dinner for two without worrying about the kids.

Forth night, back to Royal Court and back with Andriana. It's Pirate Night aboard the Fantasy. A night where the ship is overrun by Pirates in the Caribbean and some of the guests join the Pirate League.
Andriana and Laura had worked out a plan for preordering meals. This is a great solution, because it gives the chefs time to prepare food that makes their guests happy. Every night at dinner Laura would order Breakfast, Lunch, and Dinner for the next day. Andriana would tell us where she was and insist we find for that that meal.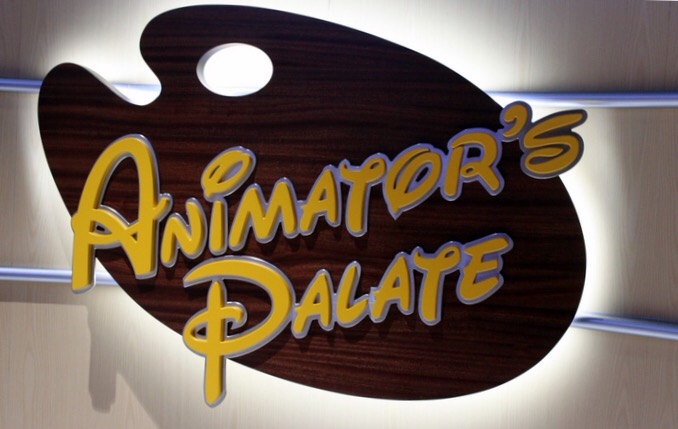 I'm sure everyone is following the pattern by now, but just in case, it's the fifth night which means our second trip to Animater's Palette. Tonight everyone tries their hand at artistry. Guests young and old create their own unique character by drawing and coloring on a magical sheet of paper which is collected by your server very quickly. Be sure to be on time for this mean and don't doddle while you dabble into doodling.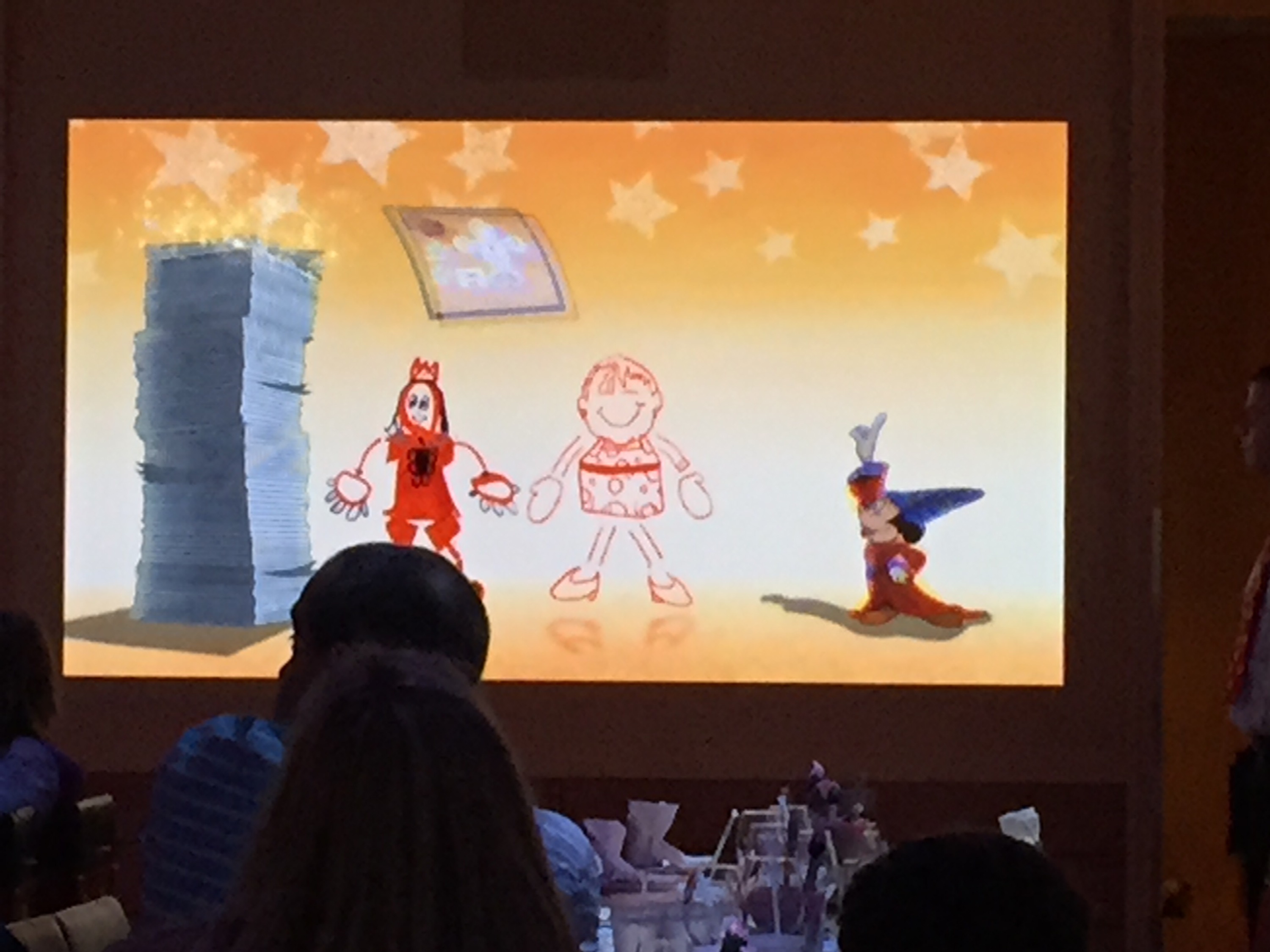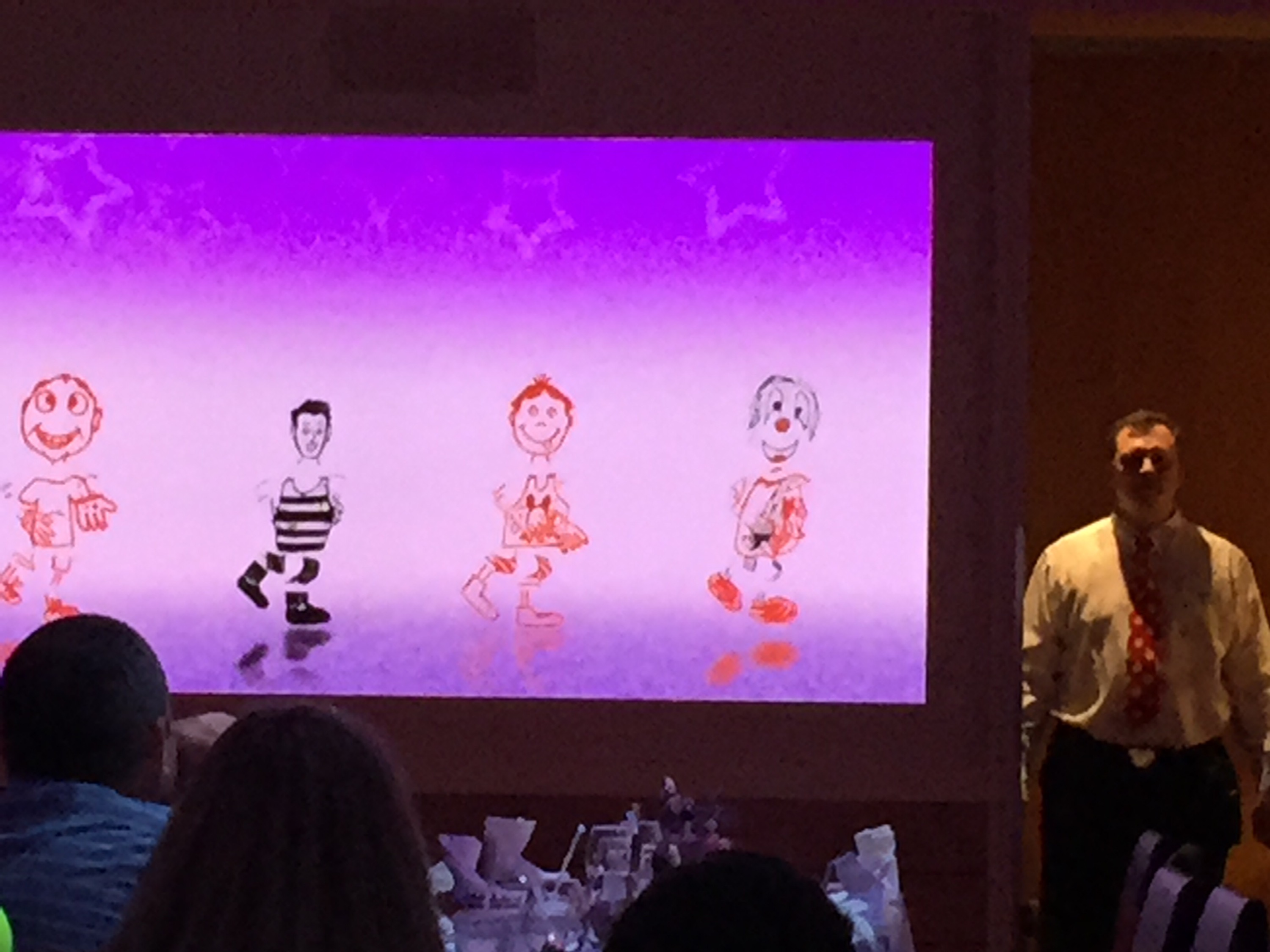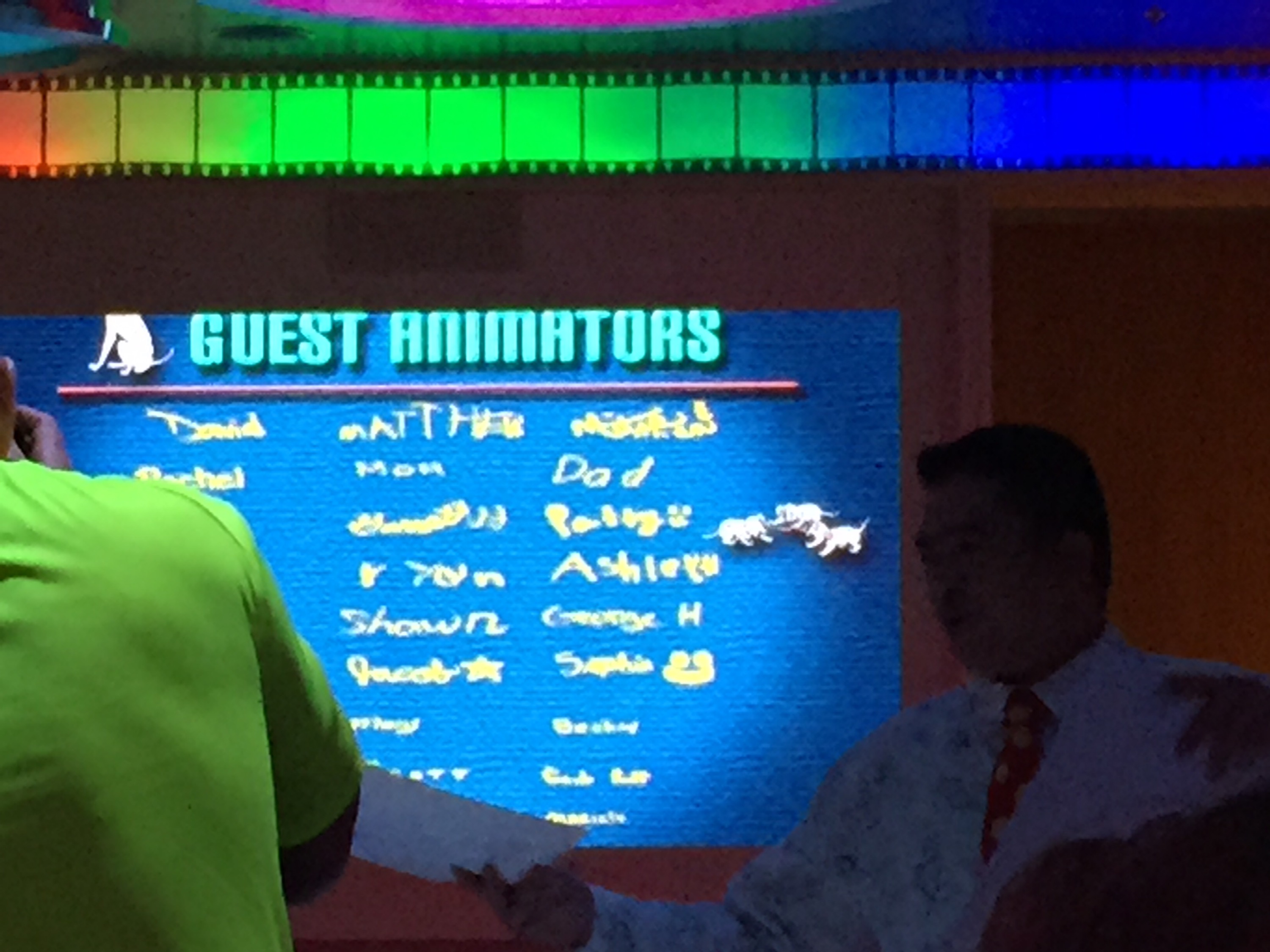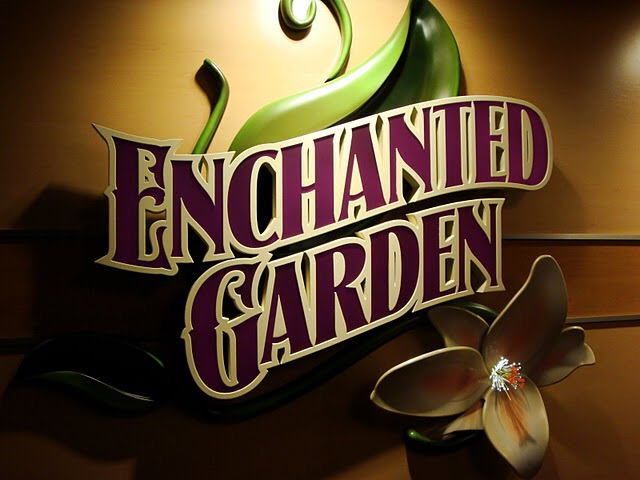 Enchanted Garden on the Disney Fantasy is a Main Dining restaurant located on Deck 2, Midship that serves breakfast, lunch and dinner. Inspired by the opulent gardens of Versailles, Enchanted Garden magically transforms from day to night.
Ok, this is my least favorite dining room on board. The decor is ok, the color scheme seems a little gloomy, and the transition to night is a bit understated. The ceiling is lower on deck two, so it feels a little claustrophobic, unless you happen to get a window seat.
If eating at fancy dinners every night is too much and you are thinking about skipping a dining location; EG might be the best to skip. I strongly recommend asking your server to see the menu the night beforehand, to make sure your not going to miss your favorite dish. If you do decide to skip a dinner in your rotation, be kind to your server and let them know ahead of time.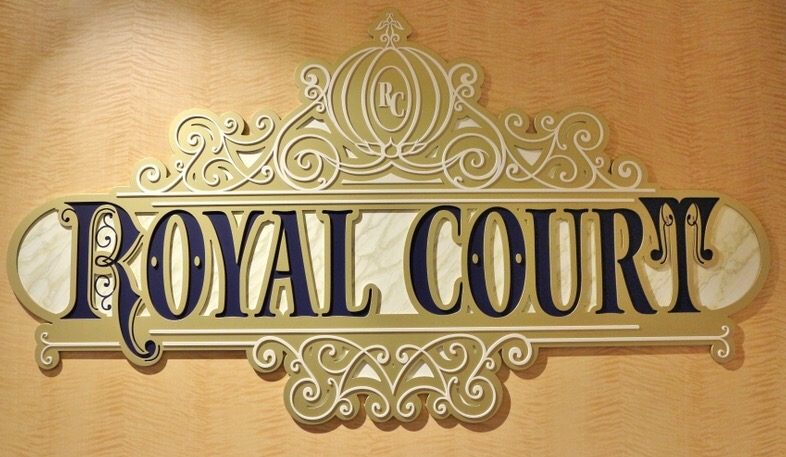 For our last dinner, we return to the first dining room, the Royal Court. This is the last chance you have for your service staff to "wow" you.
The pastry chef the last night made a special desert to celebrate Laura's birthday. Gluten free and Dairy free.
Magical Extras
Faisal saw our dining experience was a bit disappointing, so he changed our mealtime and server and completely turned our cruise around.
Andriana made sure that the Laura and the kids meals were awesome with several special orders and surprises.
Faisal made sure we had at a gluten free snack when we were at port. He even stopped me in the hallway once to give me a sealed box of gluten free cookies on my way off the ship.
Andriana and Faisal wanted to make sure our breakfasts and lunches were successes too. They told us where they were going to be each meal and insisted we visit them each time.
Andriana offered Patty gluten free macaroni and cheese. Patty loved the original Mac and Cheese disk from previous cruises; she was so happy that she could have this dish that she started to cry.
For the port of call mornings we had to get off the ship before the dining rooms opened to make our excursions. Faisal and Andriana each transferred our special orders to Cabanas, the casual dining; all you can eat; buffet restaurant.
Faisal also let us in on a secret. They make gluten free pizza at Flo's Cafe. Flo's is a quick food service perfect for that quick bite to eat (chicken tenders , pizza, burgers, fries, etc.). I never would have expected Flo's to accommodate gluten free pizza requests. BTW the pizza is awesome.