| | |
| --- | --- |
| Product: | (5.0 / 5) |
| Service: | (5.0 / 5) |
| Accuracy: | (5.0 / 5) |
| Gluten Free Options: | (4.8 / 5) |
| Average: | (5 / 5) |
We are inside 30 days until our May cruise aboard the Disney Fantasy and boy are we excited.  You would think it was our first cruise based on everyone reaction to the upcoming date, but in reality we are pros at this.  We love Disney Cruises because it is the only cruise line to offer activities for all different age groups with designated areas for kids only, teens only, adult only, and family areas.  We have sailed with Disney on board the Magic, Wonder, and Fantasy in the past with destinations to the Caribbean, the Bahamas, and Alaska.  Every journey has been a great success and with a little bit of Disney magic, this trip will be another awesome voyage.
---
Overview
Our trip is called the 7-Night Eastern Caribbean Cruise on Disney Fantasy – Itinerary A, which is a fancy way of saying we are leaving on a 7 Night cruise from Port Canaveral, Florida with stops in St. Maarten, the US Virgin Islands, and Castaway Cay (Disney's private island in The Bahamas).  During our cruise we will be experiencing Spa treatments on board, Adult Dining, and Port Adventures in St. Maarten and St. Thomas.
"St. Maarten, an island evenly and peaceably split between France and the Netherlands, is a Disney Cruise Line Caribbean Cruise port of call. Once the site of numerous sugar cane plantations and military strongholds, the West Indies island of St. Maarten/St. Martin today is a popular tourist destination characterized by festive nightlife, local handicrafts, exotic drinks, decadent shopping and gorgeous beaches. The 2 territories occupying the island hold the distinction of being the smallest to exist separately on one sea isle."

"St. Thomas and St. John of the U.S. Virgin Islands make up one of the exciting ports of call on a Disney Cruise Line Caribbean Cruise vacation. Once largely occupied by Dutch-owned sugar cane plantations and pirates of the Caribbean, they are today some of the most popular tropical tourist destinations in the world."

"Reserved exclusively for Guests on Disney Cruise Line Bahamian and Caribbean cruise vacations, Castaway Cay is Disney's private port-of-call paradise. On this island, enjoy tropical leisure activities, such as snorkeling, boating, swimming and sunbathing."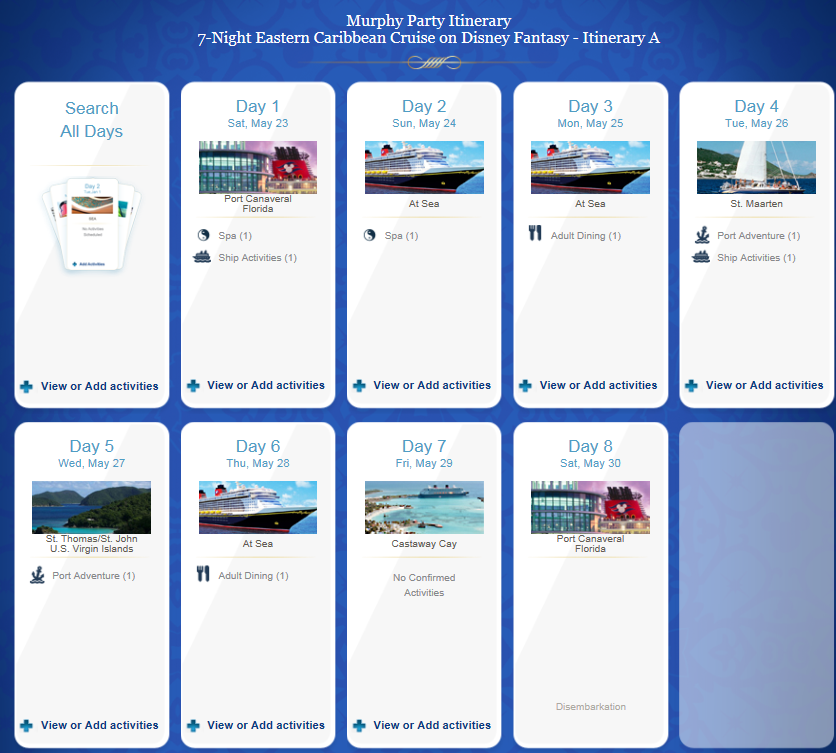 Planning
Planning started months ago.  Picking a cruise date, selecting itinerary, getting passports, signing up for kid clubs, selecting port adventures, spa treatments, adult dining, and making payments on your upcoming dream vacation are all part of the fun while waiting for your voyage.
---
Passports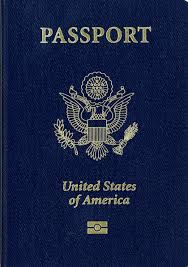 All members of the party are required to have Passports for entry in and exiting out of the country regardless of age.  Whatever you do, make sure your Passport is valid and has at least 6 months left on it prior to sailing.  And make sure you have them with you in your carry-on belonging when you arrive at the Embarkation port.  I have seen many people scramble to find their passports, some have them packed in their bags destine to go directly to their state room and others left them at home.  Disney (and any other cruise line you take) will not let you on board without them.
---
 Kids' Clubs
The kids love going to the Oceaneer Club and Oceaneer Lab designed for kids 3-12.  Mine demand that we pick them up for dinner, but enjoy spending many an hour in the club.  There are all kinds of activities including story time, making flubber, and character visits.  Sign up online from the cruise website under Online Check-In and pickup a wristband either from the port prior to sailing or from either of the clubs and you're ready to go.
Disney's Oceaneer Club is a children's activity center located on Deck 5, Midship on the Disney Fantasy. It is the perfect place for children 3 to 12 years of age to immerse themselves in the imaginative worlds that only Disney could create, while performing on stage, playing games and enjoying a wide variety of supervised activities.
Disney's Oceaneer Lab is a play space designed for children and dedicated to adventure and exploration—located on Deck 5, Midship aboard the Disney Fantasy. It's an ideal location for children ages 3 to 12 years of age to play games, perform educational experiments and enjoy a wide variety of supervised activities throughout the day. A seemingly endless supply of toys, games and Disney movies make Disney's Oceaneer Lab the perfect oasis at sea.
For kids between the ages of 11 and 14, Disney Cruise line offers the Edge.  Our kids aren't old enough yet for this experiences, but we'll report back when Patty experiences it for the first time.
Edge, a tweens-exclusive space located at Deck 13 inside the Forward Funnel aboard the Disney Dream and the Disney Fantasy, as well as on Deck 2, Midship aboard the Disney Magic and the Disney Wonder, is a scenic spot where kids ages 11 through 14 can play videogames, watch television, listen to music, surf the Internet and partake in various activities with kids their own age.
For kids between 14 and 17, Disney has their own special club on board all of their ships called the Vibe.
Vibe, a teens-exclusive space located at Deck 11, Midship aboard the Disney Magic and the Disney Wonder, and Deck 5, Forward aboard the Disney Dream and the Disney Fantasy, is a hip hotspot featuring an indoor lounge and breezy sundeck where teens ages 14 through 17 can listen to music, watch television and play videogames inside—or catch some rays and splash it up out on deck.
---
Port Adventures
Once you make final payment and you've approaching your cruise date, its time to sign up for your port adventures.  Disney goes to each of their ports of call and researches the suggested adventures listed on their website.  They make sure that there are recommendations that will meet your party's level of enjoyment – whether its a high impact hike, a relaxing day at the beach, an underwater adventure, or something kid friendly…Disney has you covered.  They've even tried out these adventures so they know exactly what their cruisers will experience.
Port Adventures—shore excursions that have been specially selected by Disney Cruise Line—provide you and your family with the very best recreation, leisure and sightseeing each destination has to offer. When you book a Port Adventure, you'll receive an unforgettable experience ashore along with the peace of mind that comes with having Disney do all the planning. Whether sailing into the horizon, exploring an under the sea world, pillaging with pirates or splashing through the waves on some of the most beautiful beaches in the world, Port Adventures set the course for a whole new way to add even more magic to your Disney Cruise Line vacation.

Reserve a Port Adventure with Disney Cruise Line—instead of booking an independent tour at the Port—and you can be sure to enjoy a hassle-free excursion with all of the service, quality and fun that you would expect from Disney.

---
Transportation
For cruises leaving from Port Canaveral, Disney provides transportation to and from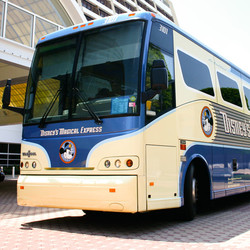 Orlando International Airport and/or the Walt Disney World Resort hotels.  We will be
staying the night before the cruise at one of the Walt Disney World hotels, so we will be taking Disney's Magical Express from the airport to the resort.  Walt Disney World offers this complimentary motor coach transportation to and from Orlando International Airport and select Walt Disney World Resort hotels, with complimentary luggage delivery.  U.S. and Canada Reservations: (407) 939-1936
The next morning we will take transportation provided by the cruise line to the port.  We are flying into Florida the day before in case of any issues with the flight down (we really don't want to miss the ship) and we're staying at Disney World because we are Disney Vacation Club members and using their transportation to help mitigate any issues getting there.
Driving to the port is easy to do if you chose your own method of transportation.  Just make sure you are on time…they don't hold the ship for tardy guests at any of the port including the home port so plan to be very early.
---
Adult Dining
Adult dining is highly recommended.  A 4 star experience for just a few dollars more.  On all four ships you can experience Palo, but on the Dream and the Fantasy they have a second adults only experience called Remy.  You can sign up for adult dining from the registration page or once on board at the front desk of the desired restaurant.  There are brunch and dinner options available so be sure to choose the option that works best for you.  For this cruise Laura and I will be dining at Remy.
"Palo on the Disney Fantasy is an intimate, Adult Exclusive restaurant serving traditional Northern Italian cuisine with a contemporary twist for dinner nightly. Brunch is available select dates on cruises lasting 4 days or longer. These premium dining experiences are available at a fee, and are not included in the cost of price of your cruise
Along with its exquisite cuisine and upscale atmosphere, Palo offers ocean views and an elegant décor—a perfect romantic setting for Guests 18 years of age or older."
"Remy on the Disney Fantasy is a romantic Adult Exclusive restaurant located on Deck 12, Aft that serves the finest in French-inspired cuisine for dinner. Offering the most elegant dining experience on board, Remy boasts sweeping ocean views and a warm, sophisticated décor—the perfect intimate setting for Guests 18 years of age and older."
---
Spa Treatments
Disney offers many spa treatments on board all of their ships.  The   You're on vacation and what better way to start relaxing then with a Swedish massage especially after dealing with packing, the chaos of the airport, kids screaming (even if they aren't yours).  Even if spa treatments aren't you're thing or if you've never experienced one before consider making a Spa visit while on board it just might be the magic your vacation needs.
"Senses Spa & Salon offers therapeutic and beautifying personal care services for men and women in an impressive onboard retreat, spanning Decks 11 and 12, Forward of the Disney Fantasy."